FeuerTrutz Newsroom
Tips and tricks for social media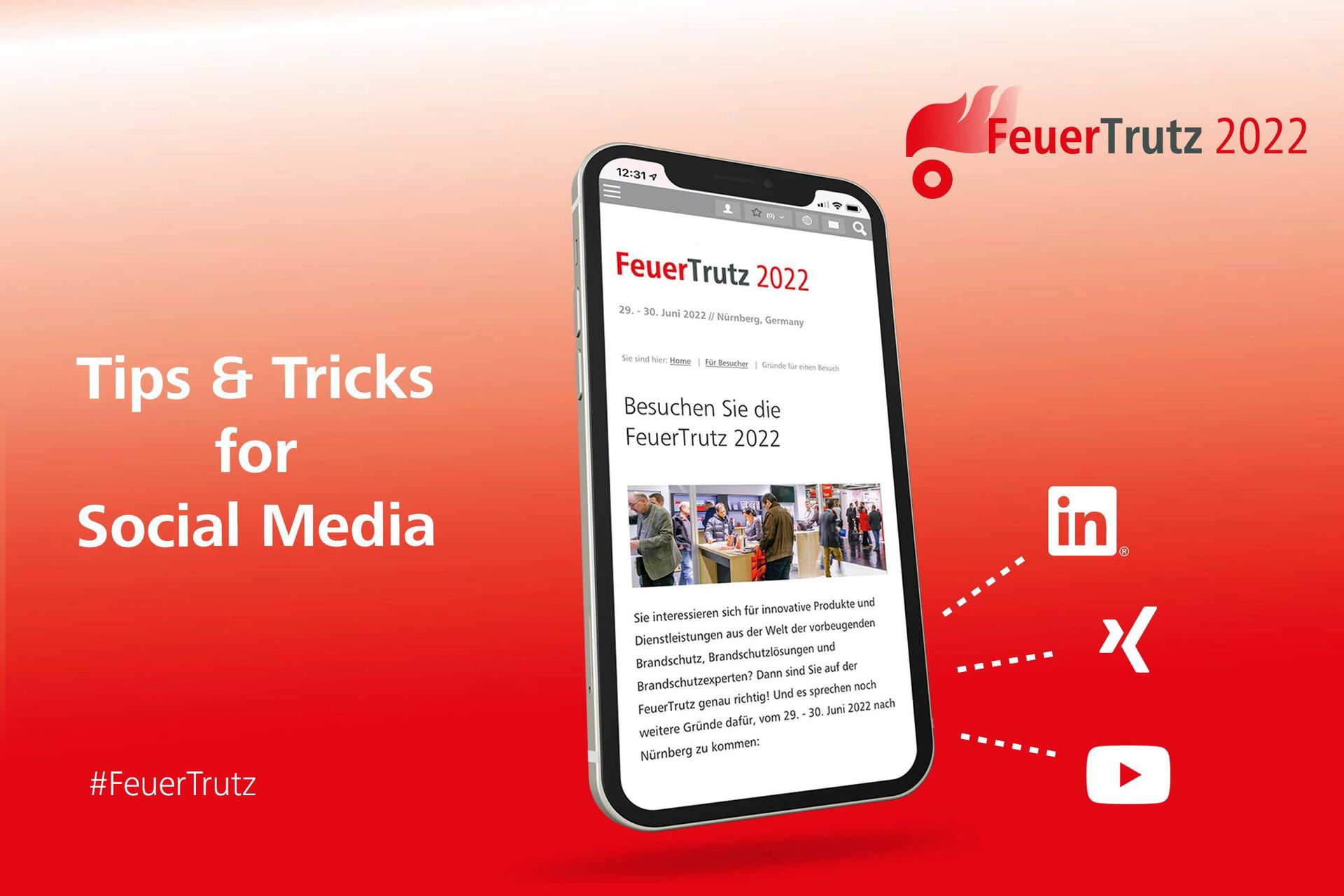 LinkedIn and Xing – here's how!
1) Create your account and follow the official FeuerTrutz-channels on LinkedIn and Xing. That way you will not miss any news!

2) Share or retweet our content on your channel(s) and/or comment on it.

3) Post news about your trade fair participation on your channels and/or your company's channels regularly! Further down, you will find a few trade fair-storytelling-ideas for your posts.

4) Whenever you post something about FeuerTrutz, please tag our official page in your post! This will show us when you communicate something about FeuerTrutz and we can react to it.

5) Please always use our official hashtag in your posts: #FeuerTrutz

6) Use our social-media-assets to draw attention to your trade fair participation (some of the assets can be personalised with your own company logo and stand number).

7) You are welcome to download our (analogue) sample invitation letter to use text modules from it in your social media posts (e.g. when you post your visitor codes and invite customers).

A few content ideas for your posts
In the run-up to FeuerTrutz:
> Save-the-Date-Post for FeuerTrutz 2022
> Name your personal visitor codes and invite your customers
> Name your stand and hall number
> Introduce staff (text/video clip) who will be on site
> Make appointments on site + online
> Announce what your customers can expect at FeuerTrutz 2022 (text, photos, videos, …)
> Post a video clip with a personal invitation from the Managing Director/Marketing Director/etc.

Right before the start of the fair:
> Post behind-the-scenes content from your trade fair preparations (meetings, stand construction, preparation of documents, ...)
> Post behind-the-scenes content from the journey to Nuremberg, during set up, …

During the exhibition:
> Post impressions during the exhibition

After the trade fair:
> Thank all participants and point out that you can still be reached via your exhibitor/product entry on our website
> Post impressions and summaries from FeuerTrutz
> Share statements from staff, clients, partners, …

Promote your exhibitor profile
Link your exhibitor profile in the FeuerTrutz catalogue in your social media activities or point to your profile directly in your marketing measures.
 
We look forward to many exciting contributions and insights into your trade fair preparations!